Products Overview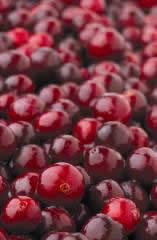 At Cape Blanco Cranberries we use our unique late harvest cranberries in all our products. We harvest the majority of our berries from November until mid-December so our cranberries are on the vine, continuing to ripen long after other cranberries have been harvested. This extra time increases their sugar (brix level) and deepens the color (TAcy) to a dark burgundy. Vine ripened cranberries also have lower acid which is what makes cranberries tart. The other major growing regions are unable to keep their cranberries on the vine due to their more severe climates. In Wisconsin (producer of over half the cranberries in the US) and Massachusetts, harvest is normally completed by mid-October when we are just beginning. In addition, our cranberry vines bloom in May whereas the other major growing regions bloom in June and even July. Our truly vine ripened cranberries and the special care we take in growing, harvesting and packing sets a new standard of excellence, producing a very delicious cranberry.

Flowable Grade 6/Grade A Frozen Cranberries

Bulk Frozen Field Run Cranberries

Cranberry Concentrate
IN DEVELOPMENT--ASK FOR DETAILS
Unsweetened Dried Cranberries

100% Cold Pressed Cranberry Juice
---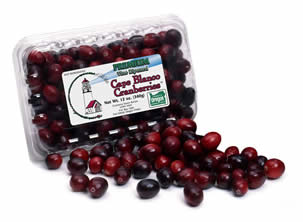 Fresh Cranberries - Fresh picked and fresh packed fully vine ripened cranberries in 12 ounce clamshells. Harvested fresh for your order from mid-October through mid-December. Berries are washed, sanitized, color sorter, dried, hand sorted to our high standards, then packed and shipped for each order. We pack only for orders on hand so you can be sure your berries are the freshest available all season long. Wholesale customer packs, 24 12 ounce clamshells per 18 pound case, 48 cases per pallet. During harvest we also pack and ship clamshells via UPS for home use. Buy some of these delicious berries during the fall and freeze for use later in the year. Contact us for details.
contact us | wholesale | back to the top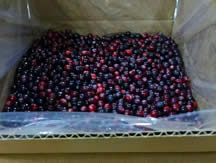 Flowable Grade 6/Grade A Frozen Cranberries – Our delicious late harvest cranberries are washed, sanitized, color-sorted, dried of all surface moisture, hand sorted, de-stemmed, packed into 1,100 average weight HPT-41 totes and frozen immediately. Additional packs and specialty sizing of the individual cranberries are available on request.
contact us | wholesale | back to the top


BENEFITS OF USING FROZEN CRANBERRIES: When using cranberries, a "freeze-thaw" process will increase the "juice yield by up to 50% and anthocyanin extraction 15-fold" due to a disruption in the cellular structure. "Thawing encourages the migration of anthocyanins" from the skin to the interior parts of the cranberry "enhancing pigment extraction during pressing." (American Herbal Pharmacopoeia, 2002; editor Roy Upton, Herbalist; et al) Thus using frozen cranberries may give you a better product, depending on the process(es) you use.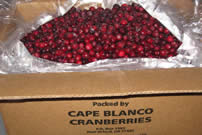 Bulk Frozen Field Run Cranberries – Our bulk frozen cranberries are late harvest fruit appear to be color-sorted in comparison to other region's cranberries. The berries are cleaned and packed into plastic lined 1,100 pound average weight HPT-41 totes.
wholesale | back to the top


---


Cranberry Concentrate – In comparison to other's cranberry concentrate, ours has exceptionally good color, high brix (sugar) and low acid. Comes frozen in 50 gallon fill, plastic lined drums. CURRENTLY OUT OF STOCK. PLEASE CONTACT IF YOU ARE INTERESTED IN OUR HIGH QUALITY CONCENTRATE.
wholesale | back to the top



---
Still in development Phase--Coming Soon:


Unsweetened Dried Cranberries – We take our fresh cranberries, clean, slice and dry them. Nothing added, nothing subtracted! Most sweetened dried cranberries are made from berries that have had the juice removed first, are infused with sugar and have oil added. Let us know if you are interested in purchasing these very healthy and tasty dried cranberries for your customers.
wholesale | back to the top
100% Cold Pressed Cranberry Juice – The most delicious, dark, unsweetened cranberry juice you've ever tasted. You can actually drink it unsweetened, as opposed to some others, or put in a little sweetener and wow! Now in development. Please check with us to let us know your needs.
wholesale | back to the top