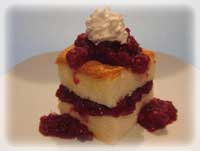 THE WORLD'S BEST CRANBERRIES
Recipes

Our Premium Vine Ripened Cranberries make any cranberry recipe better. The extra time on the vine, becoming truly ripe, really makes in difference in how our cranberries taste. Higher sugar, darker color and less of the acid that causes cranberries' bitter taste, all add up to a better cranberry.
Cranberries freeze very well, so you can buy them and have them on hand all year. Storing them in a sealed container will retain the fresh cranberry taste. Take them from the freezer and use immediately, just like fresh berries.
It is commonly known that cranberries that have been frozen and then thawed produce more juice and utilize more of the dark red color of the berry. Most cranberry recipes will yield a better result if the berries are frozen prior to use, particularly for making juices. (frozen cranberry usage)
We have found when using our Premium Vine Ripened Cranberries, we can use about 1/3 to 1/2 less sugar than many recipes call for. Most have been written for cranberries grown in other regions. Experiment with your own favorite recipe and see if you agree. The recipes listed here have not had the sugar amounts decreased so you can try them with less sugar as we do.


For recipes to help you enjoy our cranberries select from the options on the right side of the page.